---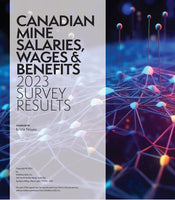 2023 Canadian Mine Salaries, Wages, and Benefits Report
Hourly wage scales listed by job title for workers at 76 metal, diamond, industrial mineral and fossil fuel mines in 10 provinces and territories, including Alberta, British Columbia, Manitoba, Newfoundland & Labrador, Northwest Territories, Nunavut, Ontario, Quebec, Saskatchewan, and Yukon.
Salary summaries for managerial, technical, and administrative personnel at 55 mines.
Benefit plan profiles for each mine.
Incentive bonus plan descriptions for many new and innovative plans reported by the mines.
Statistical tables for comparing salaries and benchmark wages at surface and underground mines.
Executive compensation for over 300 Canadian and American major, mid-tier and junior mining companies.
Workers compensation tax rate summaries for mining in all provinces and territories.
Format: Digital PDF download